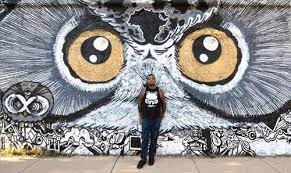 (Straight ganked from Oscar Arriola's Flicker)
Brooks Golden: A Celebration – Sunday, May 4th 5-10pm at the Chicago Urban Art Society, Chicago
We are celebrating the life of our friend and artist, Jason Brooks aka Brooks Golden with a display of his artwork and your photographs and tribute art as well. This Sunday, May 4th, 2014 5pm to 10pm at the Chicago Urban Art Society, 600 W Cermak Rd, Unit 1B, Chicago, IL
If you would like to lend an artwork or drawing of his for the evening's display, as well as tribute art or photos, please contact Oscar Arriola at fotoflow@…gmail.com. We are also asking for jpgs of any artwork photos or personal photos that you would like to share for projecting on the wall.
We will play his favorite music, which ranged from metal, soul, hip-hop, Morrissey, reggae, and more. Any song suggestions would be appreciated. There will be a mic available beginning at 6:30pm. for sharing stories and tributes.
As a fundraiser, Grime Time Magazine will be re-issuing the shirt design that Brooks designed featuring his drawing of a bat. T-shirts, tanks, and hoodies will be available.
Funeral services will be held the following day in his hometown of Milwaukee from noon to 1pm, Monday, May 5th at Leon L. Williamson Funeral Home, 2157 N 12th St, Milwaukee, Wisconsin. There will be a reception after the services at a local hall. Address for the Milwuakee reception to be announced soon.
This is a photo I shot of a piece Brooks had just finished at an abandoned building in downtown Chicago two years ago in 2012.