Tag Archive for DC
Category:
Art
,
Common Food
,
DC
,
design
,
graffiti
,
Hip Hop
,
Knile
,
music
,
sculpture
,
Uncategorized
| Tags:
2Chains
,
Cassettes
,
Crafts
,
DC
,
fiction
,
guns
,
JaysonGreene
,
PedroReyes
,
PumpMeUp
,
weapons
I remember when I participated in the "Tap Dance" offered by Hamilton's DC not to be confused with The Hamilton.
I'm a public transportation fan, I live in DC and I'm obsessed with finding old information about where I live. So when I saw this video of the trolley running only a few blocks from where I live I was fascinated.

My only complaint is that the guy who posted it is a kind of a nut job and doesn't appear to have any similar videos so don't waste your time looking through his posts.
I live in DC which means the commercials aired on TV during presidential election season are focused on the voters in neighboring Maryland and Virginia because in DC my vote doesn't really matter.
After suffering through months of political ads on TV and the radio for the last few months. I'd like to propose that if the population early votes and 75% of eligible voters exercise their right political ads have to stop until the next election.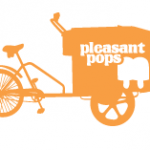 One of the themes of Common Folk Collective is doing your own thing. This week we're proud to share the D.I.Y.S work ethic of a promising DC business. My friend and former officemate Brian started an amazing company Pleasant Pops. Pleasant Pops was started to fill a missing market left by the lack of Mexican ice pops called paletas. I was lucky enough to sample some of the early pops and from my first taste I knew he was on to something.
Pleasant Pops started with a cart and a dream and they've grown quite a bit. They've had a successful Kickstarter campaign and are opening a store in the not too distant future.
They are currently competing for $25,000 and some assistance as to how to grow their business. Please help out some Common Folk doing some uncommon things and vote for them.
To spite the North Carolina amendment. I will, as a legally recognized marriage officiant in the District of Columbia, be offering services for free during the month of May.