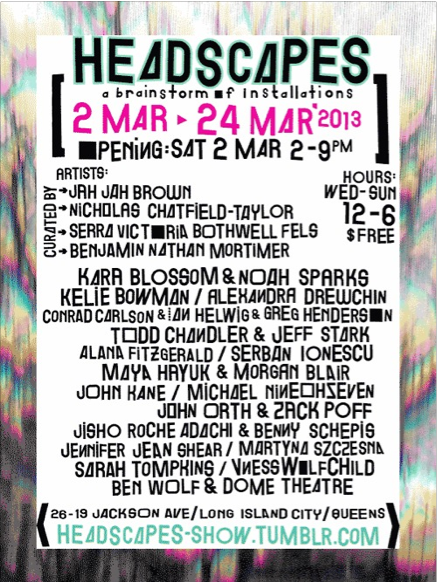 I won't be there and that makes me very, very sad. But if you are in the nyc area this saturday, March 2nd, you need to go check this out. Common Folk founder extraordinaire Jah Jah Brown is a creator/curator of this monstrosity of an art show. Not only will there be large installations to crawl through that give a glimpse into the head of the artists but there'll also be a gallery next door featuring prints, photography, paintings, and sculpture. And since the flyer does the show no justice here are a couple sneak peak shots (you can find more on the show's tumblr here.)
For a much more detailed write up and info…
Headscapes is a group installation show about what goes on inside the heads of artists. In order to find creativity, artists often go into a particular head space. These frames of mind vary, each made from a pallet of ideas, feelings, sounds, symbols, and processes.
In Headscapes, a group of self-organized, Brooklyn artists are making these places real in an empty warehouse in Long Island City. The show features work by more than 25 artists.
Viewers of the show are invited to go inside the various projects and inside the headscapes of artists. Set in a raw warehouse environment, the structures hide detailed interiors. The Installations include an igloo made of speakers, a web spun inside a giant geod, a forced-perspective room, a black and white 8mm film odyssey, a kalediscope projection lighthouse, a nest of neon geometric collages, a car theater, and umbrella-clouds that project beams of directional sound.
A gallery show next door to the warehouse space features prints, pictures, paintings, and small sculptures by the artists at the See.Me headquarters.
One part Brooklyn warehouse installations madness, one part gallery exhibition, Headscapes opens an unusual door to the creative process. During its three-week run, the show will host musical performances, film screenings, and a theater piece by Dome Theater.
The show features two dozen artists and musicians mostly from Brooklyn, including individuals and collaborators who have created sound installations inside a former convent, rafted down rivers on art boats, made drive-ins from junk cars, formed DIY-music venues and galleries, organized tallbike jousting competitions, made installations into a floating boat motel, and created a shanty town of musical houses. Participating artists include:Jah Jah Brown (Ninjasonik), Nicholas Chatfield-Taylor, Serra Victoria Bothwell Fels (Rabid Hands), Benjamin Mortimer (Swimming Cities), Kara Blossom and Noah Sparks, Kelie Bowman (Cinders Gallery, F.L.A. Gallery), Conrad Carlson (DJ Dirtyfinger) and Ian Helwig and Greg Henderson, Todd Chandler and Jeff Stark (Empire Drive-In), Alexandra Drewchin (Eartheater, Guardian Alien, King Konqubine), Alana Fitzgerald, Forrest Gillespie (Dome Theater), Maya Hayuk and Morgan Blair, Serban Ionescu, John Kane, Michael Nineohseven, Zack Poff, Jisho Roche Adachi and Benny Schepis, Jennifer Jean Shear, Martyna Szczesna, Sarah Tompkins, and VnessWolfCHild and Ben Wolf (Rabid Hands).
Headscapes is a project conceived and curated by Jah Jah Brown, Nicholas Chatfield-Taylor, Serra Victoria Bothwell Fels, and Benjamin Mortimer, with support from See.Me, Rockrose, and Build It Green.
Select works will be featured by See.Me at Scope Art Show during NYC's Armory Arts week. See.Me will be offering ticketed limo rides from the art fair to the Headscapes warehouse in Long Island City.